Live Performances/Composition/Session Musician
Check out some of my featured projects and get a glimpse of what We can create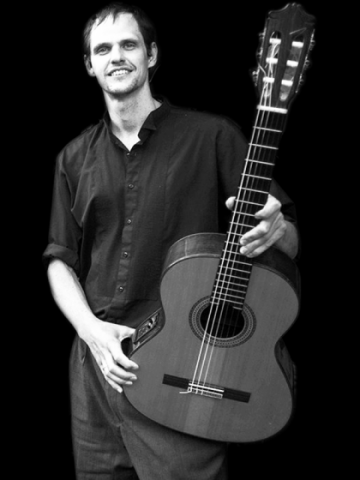 "Made In France" - by Bireli Lagrene
Our repertoire includes many genres that have created beautiful music with the guitar. This is a Gypsy Jazz tune by the great guitarist Bireli Lagrene and we've played it in our own style, combining Flamenco and Latin music.
"Natalia" - by Antonio Lauro
Trio Caminos performing a modern arrangement of Venezuelan Waltz "Natalia" at The Red Poppy. Carlos Caminos on Guitar, Angelo Tomandl on Harmonica and Marlon Aldana on Percussion.
CONTEMPORARY MUSIC AND DANCE
This is a unique and powerful creative performance that blends traditional music and dance with a contemporary approach of improvisation. Dance: Juliana Mendonca ; Music: Carlos Caminos
This Flamenco Guitar Duo is working on a beautiful repertoire that includes Bulerías, Fandangos, Soleá, Tangos and more!
TANGO SEXTET /LIVE PERFORMANCES / TANGO DANCERS / VIDEO CLIPS
ALMA VIEJA by Los Tangueros Del Oeste
GUITAR & DANCE / PERFORMING ARTS / AFRO-VENEZUELAN AND JAZZ
Afro Blue Juneteenth Celebration
This June 2021, we had a great opportunity to celebrate Juneteenth with a music and dance performance. Juliana Mendonca grew up learning different Afro-Caribbean and Afro-Venezuelan traditional dances and has used them to create her own artistic expression. Thank you to Herman Miller for creating this opportunity to celebrate such a powerful symbol of liberation.
TANGO SEXTET /LIVE PERFORMANCES / TANGO DANCERS / VIDEO CLIPS
SAMA: Los Tangueros del Oeste
Los Tangueros del Oeste are steeped in the Nuevo Tango styles of Astor Piazzolla, Gotan Project and Bajo Fondo. Focusing on original compositions, the group blends beats and textures from Hip-Hop and Electronica with Flamenco influences filtered through an improvisational lens. Their singular Nuevo Tango sound is cool, impassioned, sensuous, seductive and utterly dance-inducing.
GUITAR DUO /LIVE PERFORMANCES / GYPSY JAZZ / IMPROVISATION
GYPSY SOUTH is a fun and creative Guitar Duo that blends two guitar styles. Ross Howe is an excellent guitarist with many years of experience playing Jazz. Our repertoire is a wonderful fusion of tunes that we love from this amazing Jazz Guitar Tradition also known as Jazz Manouche.
LIVE PERFORMANCES / GROUPS / TRIOS / COMPOSITION / IMPROVISATION
TRIO CAMINOS is a unique blend of Flamenco, Latin and Venezuelan music. It features shows where outstanding musicians speak through their instruments and listeners intimately connect with beautiful, distinct and diverse melodies and beats.
We play Flamenco Soleares, Bulerías, Fandango, Alegrías and more. We also play music from Venezuela, Argentina, Colombia, Brazil and United States.
LIVE PERFORMANCES / PAINTING / DANCE/ COMPOSITION /
Caminos, Arizmendi and Moore
Merritt Moore performs in collaboration with Benjamin Arizmendi (visual artist) and Carlos Caminos. A portrait of Moore hanging with other paintings by Arizmendi on the wall.
FLAMENCO SOLEA /GUITAR CONCERTS / COMPOSITION
Flamenco is a unique art form that takes years to learn and master. When I decided I wanted to study Flamenco I went to live in Granada, Spain, and studied with local teachers.
GUITARIST FOR THE MUSICAL ART QUINTET
Under the direction of Sascha Jacobsen, The Musical Art Quintet has an outstanding lineup of musicians, repertoire and musical arrangements. It was very meaningful for me to be invited to play with: Jory Fankuchen (violin), Michele Walther (violin), Charith Premawardhana (viola), Lewis Patzner (cello) and Sascha Jacobsen (bass).

Follow this site to learn more about The Musical Art Quintet www.musicalartquintet.com
GUITARIST FOR TANGO GROUP
Directed by Sascha Jacobsen, Los Tangueros Del Oeste is steeped in the nuevo tango styles of Astor Piazzolla, Gotan Project, and Bajo Fondo. Focusing on Jacobsen's original compositions, the group combines beats and textures from electronica, with influences from flamenco filtered through an improvisational lens. The band's singular nuevo tango sound is cool and impassioned, sensuous, seductive and utterly dance-inducing.
MUSIC COMPOSITION FOR DANCE AND PHYSICAL THEATER
Raíz de Agua Sound and Movement
Dancer, Choreographer and General Director: Juliana Mendonca
Special guest dancers: Eric Urriola and Carolina Riveros.
Original Music and Live Performance for Raíz de Agua: Carlos Caminos and Jorge Espinoza
Raíz de Agua is dedicated to integrating dance, theater and live music. Our company seeks to merge both art forms and create performances that are a product of a continuous dialogue between dance and music with every choreography and musical composition.
To learn more about Raíz de Agua: www.raizdeagua.com
GUITARIST FOR KANTA JUDEZMO
Kanta Judezmo and Oratorio by Sascha Jacobsen
Kanta Judezmo is an oratorio sung in Ladino and English and an immersive performance with live music, singing, narration, Spanish Guitar, percussion, dance and projections, telling the story of the Sephardic Diaspora, through the eyes of an immigrant woman forced from her home on a journey to forge a new life.
Composed by Sascha Jacobsen
Narrated by librettist Bobby Coleman
With
Melinda Martinez Becker, mezzo soprano
The Musical Art Quintet
Carlos Caminos, Guitar
Edgardo Cambon, percussion
Natalie Nayun, Andrea Fuchilieri & Emanuel Colombo, dancers
Compilation of diverse projects
Here is a short showcase of some projects I have been involved in. Including The Big Band from Mérida Venezuela, directed by Pablo Gil, Dance-Theater plays with Raíz de Agua, dir. Juliana Mendonca, Afro-Venezuelan Rock "Mirada Interna", dir. Jorge Espinoza, and more.
MUSIC PRODUCTION / CREATIVE COLLABORATIONS​
This is an amazing project that I had the opportunity to work in as a guitarist. Music composer and drummer Jorge Espinoza created a unique concept using Afro-Venezuelan rhythms, electronic music and hard rock. It was also a beautiful experience recording with Mirelys Dugarte, Luis Salas and Jorge Espinoza.
To learn more about Mirada Interna go to: miradainterna.com
I also recommend looking into: https://jorgespinoza.com/
MUSIC COMPOSITION / CREATIVE COLLABORATIONS / IMPROVISATION
Juliana Mendonca's Raíz de Agua has been creating performances that integrate Contemporary Dance and Music seeking a deeper connection between both art forms. Juliana Mendonca, a contemporary dancer graduated from the University Institute of Dance of Caracas (IUDANZA, Venezuela), Jorge Espinoza, multi-instrumentalist and music producer, and Carlos Caminos, have been working together for many years creating original pieces exploring new horizons for live music and dance performances.
To learn more about Raíz de Agua: www.raizdeagua.com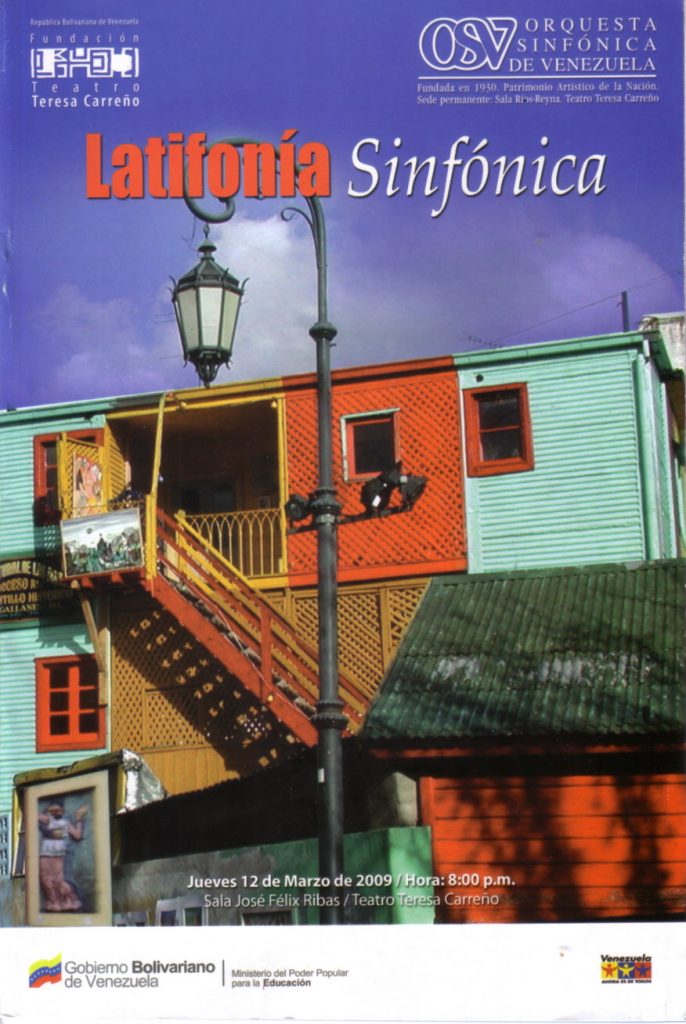 Latifonía plays with Simon Bolivar Symphonic Orchestra
COMPOSER, MUSIC ARRANGEMENT AND PERFORMER
Latifonía music group plays with the Simon Bolivar Symphonic Orchestra Venezuela a repertoire of original music composed by Latifonía and traditional Spanish, Italian, Argentine and Venezuelan music among others.
Each musician in Latifonía was in charge of composing and arranging music for this concert for Group and Orchestra.
MUSIC PRODUCTION / CREATIVE COLLABORATIONS​
Director Carlos Monagas hired me to compose, arrange, record and hire musicians for this excellent educational TV program about music. It was a great experience creating an arrangement that included all the instruments that he wanted: Cuatro, Maracas, Bass, Guitar, Drums, Saxophone, Clarinet and Violin; as well as being at the studio during the recordings.
To learn more about Carlos Monagas work go to: http://carlosmonagas.com/en/home-2/
SESSION MUSICIAN / GUITAR ARRANGEMENT
Produced by Explorart Films (https://explorart.com/) with Music composed and arranged by Jorge Chacin, Guitar arrangement by Carlos Caminos and Jorge Chacin. Recorded by Esarte Productora.

I was hired as a guitarist to record the music for the promotional video of this amazing TV series that documents kids climbing the highest mountains of Venezuela: Pico Humboldt and Pico Bolivar.

MUSIC PRODUCTION / CREATIVE COLLABORATIONS​
Director Miguel New wrote and produced this fun animated short film in 2017. He wrote the script and created a unique language for every animal in the film. I wrote and arranged the music with Sebastian "Nayche" New. We tried many singers to find the right voices, which was not easy… not every singer can sound like a wild boar or a chicken!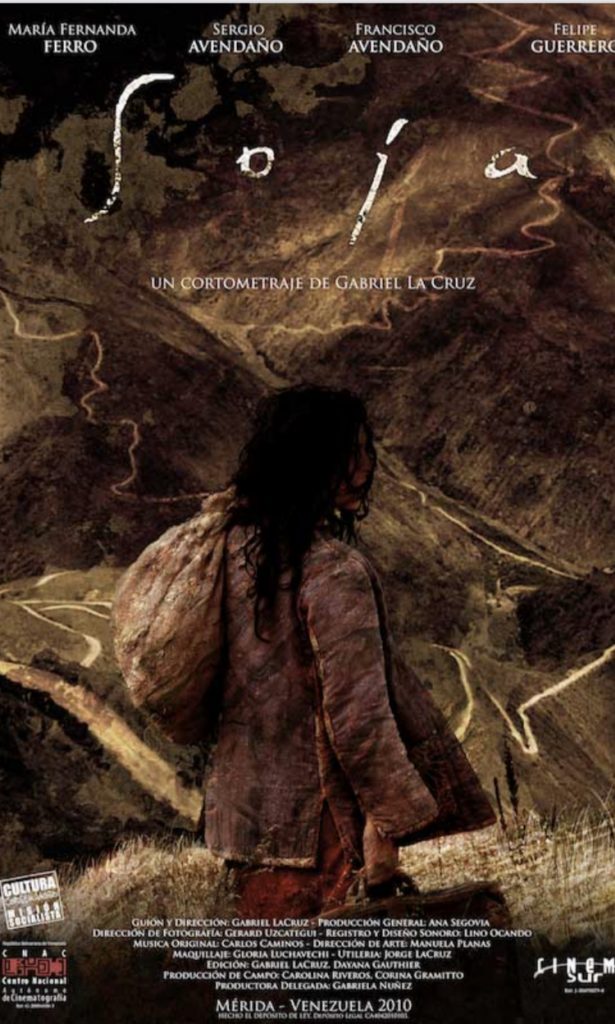 MUSIC COMPOSITION FOR FILM
Directed by Gabriel Lacruz, this short film was filmed in Mérida, Venezuela. The  landscape of the Venezuelan Andes provided a unique setting to compose music. The story shows the challenges faced by a mother living in a very remote area and her struggle to leave her home with her kids.